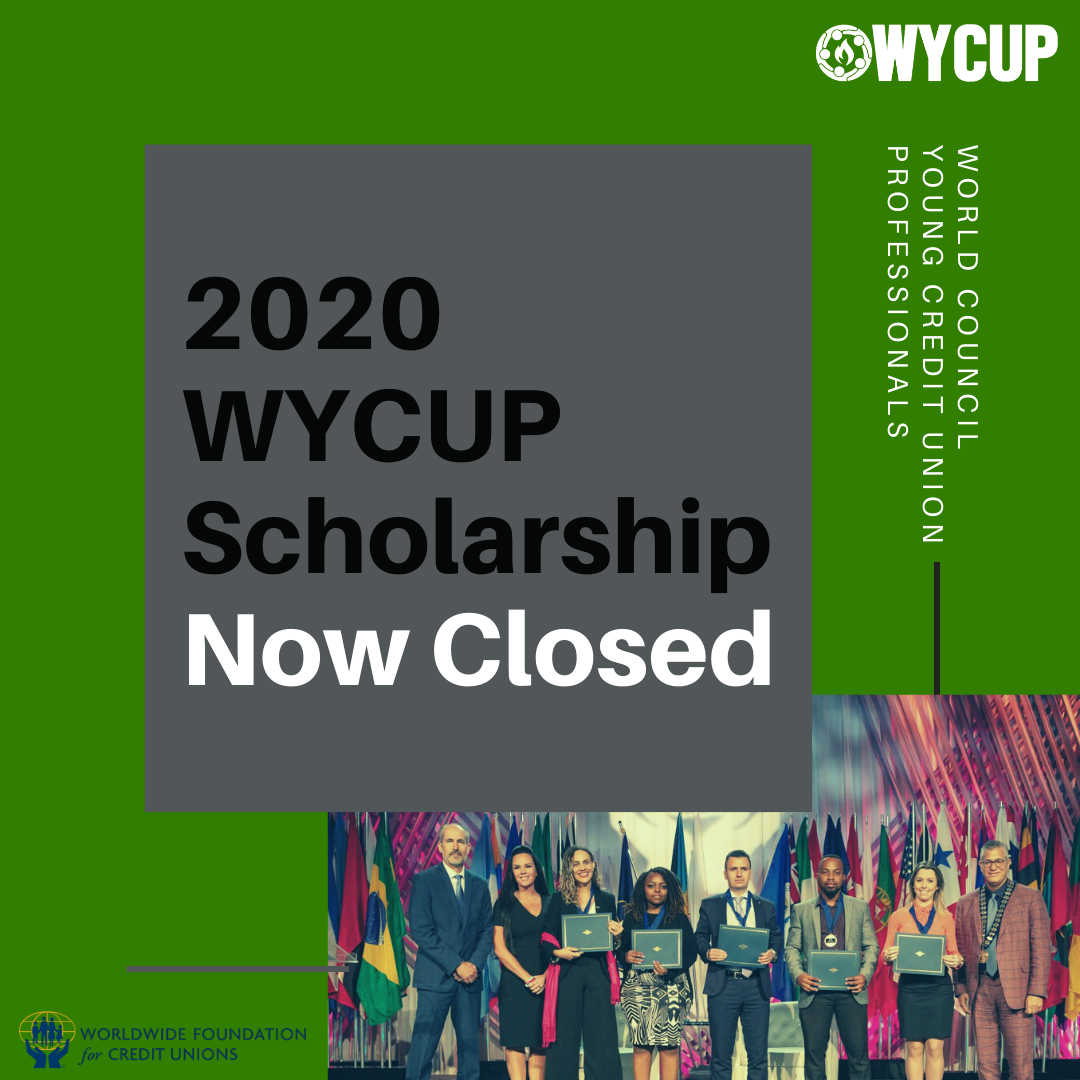 WYCUP offers an annual scholarship program designed to promote and engage the next generation of credit union leaders in the international credit union movement.
Up to five outstanding nominees who are 40 or younger, have made significant contributions to their credit union or financial cooperative system and have the potential to make a global credit union impact are awarded the scholarship.


UPDATE:
The 2020 WYCUP Scholarship Application process is now closed. You can check out the applicants
HERE!
2019 WYCUP Scholarship Recipients

Micheli Thiesen
Brazil

Kevin Lashley
Barbados

Carla Oteiro Borré
Brazil

Piotr Palka
Poland

Maureen Njoroge
Kenya
2018

2017





2016


Aleksey Stepanov, Russia
Jinelle Schulere-Smart, Trinidad & Tobago
Pauline Sheils, Ireland
Melanie Cleary, Ireland
Eric Tumwet, Kenya

2015

Henrique D'Azevedo Canal, Brazil
Jae Kim, Canada
Leandro Hendges, Brazil
Lisa Totaro, United States
Stephanie Sievers, United States
Tanya Brown, Jamaica

2014

Emma Avery, Australia
Robin Blythe, Canada
Carlos Gustavo Alves Ferreira, Brazil
Paul Norgrove, United Kingdom
Oleg Vakhrushev, Russia

2013

Caroline Domanski, United Kingdom
Benjamin Janzen, Canada
Christopher Morris, United States
Eber Ostemberg, Brazil
Jenn Vandehaar, Canada

2012

Brian Aalbers, Canada
Wesley Diniz Alves, Brazil
Maire Doyle, Ireland
Miriam De Dios, United States
Edyta Grzybowska, Poland

2011

Yola Charles, Trinidad & Tobago
Michelle Coelho, Australia
Marcy Lovberg, Canada
Edel McKenna, Ireland
Tracia Pounder, Barbados

2010

Scott Daukas, United States
Carol Karugu, Kenya
Melia Keller,United States
Orla O'Shea, Ireland
Cas Scott, Australia

2009

Julie Ferguson, Ireland
Ross Lanbrick, Australia
Carolyne Luvembe, Kenya
Jeff Rout, Canada
Amy Stanton, United States

2008

Joe Agro, Canada
Anna Corona, United States
Nicholas May, Australia
Rachel Milan, Canada
Rafal Sokolowski, Poland

2007

Elizabeth V. Randall, United States
Izabela Rutkowska, Poland
Ryan Visscher, Canada
Stacey Walker, United States
Eleonora Zgonjanin Petrovik, Macedonia

2006

Tom Atkins, Canada
Alison Carr, United States
Anne-Marie Coffey, Ireland
Darcy Mykytyshyn, Canada
Shoba Gunasekaran, Singapore

2005

Sherri Fogwill, Canada
Tina Hall, United States
Karla Herrera, Guatemala
Michael Mack, Australia
Sandra Phillips, Canada

2004

Glenn Bolger, Canada
Catherine Coffey, Ireland
Hillary Jalafi, Malawi
Dorwin Manzano, Trinidad
Irwing Pinares-Silva, Peru

2003

Justine Conley, Australia
Jeanne Kim, United States
Jan Knowles, Bahamas
Malcolm Stoffman, Canada
Katarzyna Uniwersal, Poland

2002

Rod Ashley, United Kingdom
John Klassen, Canada
Skott Pope, United States
Maurice Wright, Jamaica
Amy Penick, United States

2001

Mary Baxter, United States
Grzegorz Buckowski, Poland
Bradford Caldwell, United States
Lana Catalano, Canada
Andrew Leys, New Zealand
Credit union professionals eligible for the WYCUP program shouldn't just think about participating, they should go for it!"
- Jessica Richardson-Insenegger, In-Fusion Group